Watercolors & Wisdom Teeth
This past week has been far from enjoyable. If you've ever suffered from wisdom tooth pain, you well know that it's a week of misery if you're lucky. I've been putting off getting my wisdom teeth extracted for some time now, and I've had to suffer because of it. So I think it's finally gonna happen in a couple months time. I'm not looking forward to it, but after many wisdom tooth infections, it's just not worth stressing over putting it off and having reoccurring infections that ruin weeks at a time. And yes, all four need to come out. Regardless, here are a few things that have helped me keep my mind off the pain:
Playing with watercolors
I've had the same set of watercolors for probably over 10 years now. Not sure how long watercolors last, but I thought a new set would be nice. I found some Koh-i-Noor watercolors at an office supply store where I live. I've never heard of the brand, but I saw a review on a blog post saying that they were pretty decent watercolors. I enjoy the range of color palettes available and how they can be twisted together to create a customizable compact set. I chose the spring and winter palettes. I liked the pop of colors in the spring set and the deeper colors in the winter set. But I would love a Kuretaki Gansai Tambi set one day.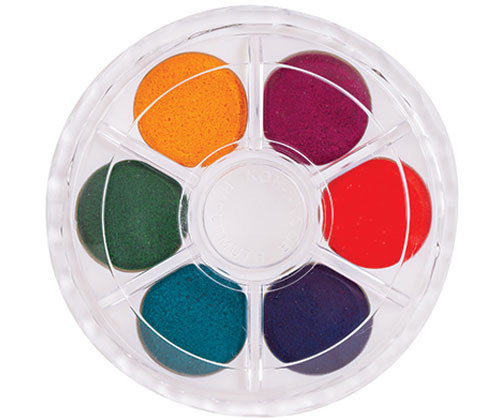 I find watercolor to be relaxing and forgiving. So if you're like me and don't know what you're doing when it comes to painting, maybe try some watercolors. There are so many videos on YouTube you can use to learn. I particularly like watching Shayda Campbell's videos. She has a great way of explaining what she's doing, which makes it easy to follow along.
Little Fires Everywhere
I've been wanting to read Little Fires Everywhere by Celeste Ng for so long. But sometimes I put off a book if I feel like it might be emotionally taxing. So many people have raved about this novel, and Hulu even made a TV series based on it, starring Reese Witherspoon. But of course, I can't watch that until I read the book. I happened to see this book on a friend's shelf, and she let me borrow it. Even then, I put it off for about a month before actually picking it up. But I must say that I'M OBSESSED. It's not at all what I expected. And it's addicting to read.
So this is your sign to pick up that book you've been putting off. It may become one of your favorites, and you'll be wishing you had read it sooner.
My latest blog post:
Welcome to a new series to my blog: Author Aesthetic. If you're subscribed to my newsletter, you'll know I've been recently intrigued by the Brontë sisters — more specifically, Emily. Since there's not much out there about the Brontë sisters because of their early deaths, I became more curious about their personalities and what they were really like, considering the novels and poems they produced. Then I thought: I wonder what they would be like if they were alive now. I wonder what any author who isn't alive now would be like. So I thought it would be fun/interesting to research each author to get a better grasp on how their personalities and interests would translate today. This is all just for fun and to occupy my curious mind. Hope you enjoy this new series!
---
Thanks for reading bonitappétit! Subscribe for free to receive new posts and support my work.